About
 
*
107 Fourth Avenue Wine Bar & Café is a small bar established in July 2003. We offer about two dozen wines by the glass or bottle, with a focus on quality wines at a low mark-up.  
Chef Marcin Lazur and his team offer the full food menu every day all day until midnight or later. The mostly small-plate menu ranges from signature items like our well-known steak-frîtes, to more creative specials driven by available local products.
We encourage our customers to drop by for just drinks, a quick bite, or anything up to a full meal, and therefore do not take reservations. There is seating for 38 indoors and another 18 outdoors on our covered front patio or rear deck under the maple tree.  
Hours: from noon all day until midnight or later, every day.
(Including all holidays except Christmas Day and New Year's Day.)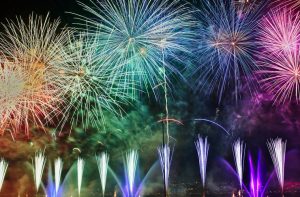 Please note: we open as usual from noon until late on December 31st (New Year's Eve)with no cover or special prices. Drop by any time.
Location

We are located at 107 Fourth Avenue just east of Bank Street, about a four-minute walk north of Lansdowne Park.
Please note the new city parking garage is now open (between Third & Second Avenues) just across Bank Street behind the Glebe Metro.

Contact Us

1-613-236-0040  (Sorry, no reservations or private functions)
Postal Address:
107 Fourth Ave., Unit # 1
Ottawa, Ontario
K1S 2L1 
Julia Hargadon (Manager)
Marcin Lazur (Chef)
Red Wines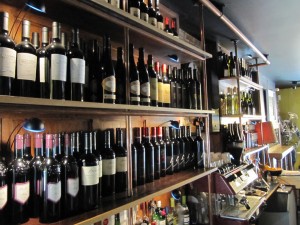 **
prices per bottle / 6oz glass 
Casa Solar Tempranillo  2015  Terra de Castilla (Spain)  $39  $9.75 
Le Due Torri Merlot  2015  Venezia Giulia (Italy)  $43  $10.75  
Domiciano Cosecha Nocturna Malbec  2015  Mendoza (Argentina)  $45  $11.25
Villa Medoro Montepulciano d'Abruzzo  2015  Marche (Italy)  $45  $11.25   
Villa Gambaro Chianti Classico  2014  Italy  $46  $11.5  
Château Argadens Bordeaux Supérieur  2014  France  $46  $11.5
Earthworks Shiraz  2016  Barossa Valley  (South Australia)  $46  $11.5 
Viña Bujanda Rioja Reserva  2011  Spain  $51  $12.75
Penley Phoenix Cabernet Sauvignon  2015  Coonawara (South Australia)  $51  $12.75
 Girasole Cabernet Sauvignon  2014  Mendocino (California)  $53  $13.25
Corte Lenguin Ripasso  2013  Veneto (Italy)  $53  $13.25 
Angeline Pinot Noir  2016  (California)  $54  $13.5
de Aetna Rosso  2014  (Sicily)  $65  $16.25  
Browne Cabernet Sauvignon  2015  Columbia Valley (Washington State)  $68  $17  
Finca Valpiedra Rioja Reserva  2010  Spain  $87 bottle only
White Wines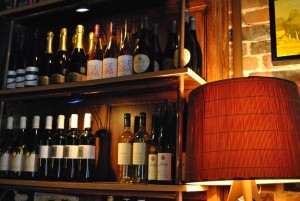 *
prices per bottle / 6oz glass
Cape Dreams Sauvignon Blanc  2016  Robertson (South Africa)  $39  $9.75
Due Torri Pinot Grigio  2015  Venezia Giulia (Italy)  $42  $10.5
Grayson Cellars Chardonnay  2015  California  $49  $12.25
Artemisia Pecorino  2015  Le Marche (Italy)  $50  $12.5
  Nautilus Sauvignon Blanc  2016  Marborough (New Zealand)  $50  $12.5  
Mertes Goldberg Riesling  2016  Kansem/Zaar (Germany)  $50  $12.5
Girasole Vineyards Chardonnay  2016  Mendocono County (California)  $53  $13.25
Domaine du Carrou Sancerre  2016  Loire (France)  $64  $16
Sparkling Wine:
Trevisana Prosecco n.v. (Italy)  $45  $9.75 (5oz) 
Casina Bric Nebbiolo Brut Rosé n.v.  (Italy)  $65  $13.75 (5oz)
Food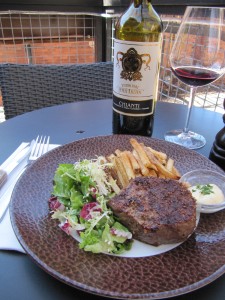 *
Basket of Bread  "Unrefined Olive" oil, 18-year-old balsamic vinegar The Unrefined Olive  $5
French Fries  dijonnaise  $8  
Green Salad  $9
Mixed Marinated Olives  orange zest, fennel, rosemary, chilli flakes  $9
Spiced Nuts  seven spice blend  $9
Soup of the Day  cup  $8   bowl  $10 
Bacon-wrapped Dates  $14
Grilled Cheese Sandwich  aged cheddar, mushrooms, onion, house ketchup with thick-cut double-smoked bacon  $15
Black Sesame Hummus  toasted Naan, artichokes, feta, pickled eggplant  $18  
Kale Caesar Salad  green & purple kale, shaved parmesan, double-smoked lardons  $18
Cheese & Charcuterie  with bread & condiments  $ 6 per item
Naan Pizza  Cacciatorini sausage, onions, peppers, mushrooms, mozzarella, parmesan, tomato sauce  $18  (gluten-free available)
 Croque Monsieur  melted Jarlsberg, capicollo (or sub. Cremini mushrooms as vegetarian option), Dijon mustard, fries, salad  $18  with egg  $20 
Seared Scallops  with Serrano ham, rainbow carrots, green beans, lentils, beurre blanc  $26
Steak Sandwich  Canadian AAA Angus striploin, Jarlsberg cheese, sautéed mushrooms, red peppers & onions, toasted baguette, fries, salad  $25  
Steak-frîtes  Canadian AAA 5oz. Angus striploin with salad, fries  $27    or with brandy-sautéed mushrooms & onions  $32  
* 
Plus Specials & Desserts  which change regularly 
*  
Eggs Benedict  (week-end lunchtimes only)  $16
Liquor & Eaux-de-Vie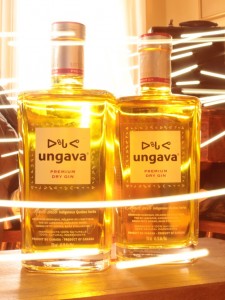 (prices per 1.5 oz)
Vodka
Stolichnaya  (Latvia)  $7
Žubrowka Bison Grass Vodka  (Poland)  $7.25
Chopin Potato Vodka  (Poland)  $8.75
Grey Goose Vodka  (France)  $8.75
Gin
Beefeater  (England)  $7
Tanqueray  (England)  $7.25
Ungava  (Québec)  $7.75
Hendrick's  (Scotland)  $8.75
Bitters
Campari  (Italy)  $7.25
Tequila
Espolón Tequila Reposado  (Mexico)  $9.75
Rum
Mount Gay Eclipse  (Barbados)  $7.5
Gosling's Black Seal  (Bermuda)  $7
Pitú Cachaça  (Brazil)  $7 
Havana Club Añejo  (Cuba)  $7.5
Whiskey
Wiser's Deluxe  (Ontario)  $7 
The Quiet Man  (Ireland)  $8.5
Woodford Reserve Bourbon  (Kentucky)  $8.75
Knob Creek Bourbon  (Kentucky)  $8.75
Scotch Whisky
Glenmorangie 10 yr. (Highlands)  $10
Laphroaig 10 yr. (Islay)  $11.25
Dalwhinnie 15 yr. (Speyside)  $12
Lagavulin 16 yr. (Islay)  $13.75
Eaux-de Vie
Grappa Sarpa di Poli  (Cab/Merlot)  (Italy)  $8.75
Pisco El Gobernador  (Chile)  $8 
Stroh Williams-Birnen (Pear Williams) Schnaps  (Austria)  $9.5 
Gaja Grappa di Barolo  (Italy)  $15.50
Brandy
Calvados Boulard  (France)  $8.75
Chateau de Laubade V.S.O.P. Armagnac  (France)  $9.25 
Courvoisier V.S.O.P. Cognac  (France)  $11.75 
Liqueurs
Ramazzotti Sambuca  (Italy)  $7
Ramazzotti Black Sambuca ( Italy)  $7.25
Ricard Pastis  (France)  $7.25
Kahlua  (Mexico)  $7.5
Green Chartreuse  (France)  $10 
Cocktails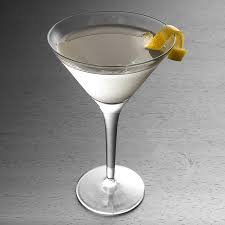 *
Sangria  3oz wine, .5oz gin, orange juice & soda  $7  (four glass jug: $25)
The "Audrey"  3oz prosecco, 1.5oz Martini Rosso and half an orange  $9.5
Negroni  1oz each of gin, Campari and Martini Rosso  $9
 Mimosa  5oz Prosecco, orange juice  $10
Kir Royale  5oz prosecco, .5oz cassis  $11
Raspberry Royale  5oz prosecco, 1oz. framboise  $12 
Pink Lemon Spritzer  1.5oz white wine, 1.5oz vodka, Fentiman's pink lemonade, Angostura bitters  $10
Caipirinha  2oz cachaça (Brazilian sugar cane liquor), lime, sugar  $11
Dark 'n Stormy  1.5oz Gosling's Dark Bermuda Rum, Fentiman's Ginger Beer  $8
Pisco Sour  1.5oz pisco, lemon, sugar, egg white, Angostura bitters  $9
Old Fashioned  1.5oz Woodford Reserve Bourbon, Angostura, sugar, orange twist  $10
Apéritifs & Dessert Wines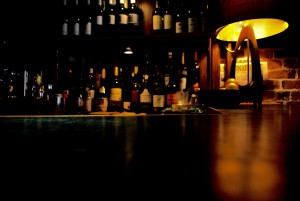 **
per 3 oz glass 
Dubonnet  (France)  orange/coffee flavoured wine-based aperitif  $6
Southbrook Framboise  (Niagara)  raspberry wine, perfectly balanced tannins & sweetness  $8.5  
Domaine des Bernardins Muscat Beaumes de Venise  2015  (Rhône)  fortified sweet white dessert wine  $8.5 
Lustau Los Arcos Amontillado  (Spain)  dry sherry  $7.25
Graham's 2011 LBV Port  (Portugal)  complex and earthy  $8
Taylor Fladgate 20 Year Old Tawney Port  (Portugal)  in wood for twenty years  $14.5
Beer & Cider
ABC India Pale Ale  (Ashton, Ontario)  5%  444ml draught  $6.64  
 Žywiec  (Poland)  5.5%  500ml bottle  $7.08  
Guinness "Draught"  (Ireland)  4.2%  500ml can  $7.96
Duvel Blonde  (Belgium)  8.5%  330ml bottle  $8.41 
Waupoos Premium Cider  (Prince Edward County, Ontario)  6.5%  341ml bottle  $8.85 
plus occasional guest beers
*