107 Fourth Avenue Wine Bar & Café
107 Fourth Avenue Wine Bar & Café is a small bar established in July 2003. We offer about two dozen wines by the glass or bottle, with a focus on quality wines at a low mark-up.  
Chef Marcin Lazur and his team offer the full food menu every day all day until midnight or later. The mostly small-plate menu ranges from signature items like our well-known steak-frites, to more creative specials driven by available local products.
We encourage our customers to drop by for just drinks, a quick bite, or anything up to a full meal, and therefore do not take reservations. Our capacity is only 38 indoors combining bar stools, high-tops and a handful of dining-level tables. There is room for another 18 outdoors, weather permitting, on our covered front patio or rear deck under the maple tree.  
Hours:
from noon all day until midnight or later, every day, but please note that we no longer are open on provincial statutory holidays: 
New Year's Day, Family Day, Good Friday, Victoria Day, Canada Day (July 2, 2018), Labour Day, Thanksgiving, Christmas Day & Boxing Day.
Location

We are located at 107 Fourth Avenue just east of Bank Street, about a four-minute walk north of Lansdowne Park.
Contact Us

1-613-236-0040  (Sorry, no reservations or private functions)
Postal Address:
107 Fourth Ave., Unit # 1
Ottawa, Ontario
K1S 2L1 
Julia Hargadon (Manager)
Marcin Lazur (Chef)
Red Wines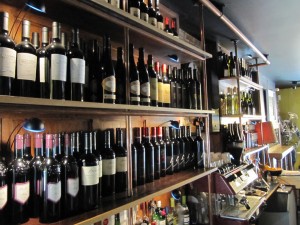 **
prices per bottle / 6oz glass 
Casa Solar Tempranillo  2015  Terra de Castilla (Spain)  $39  $9.75 
Le Due Torri Merlot  2015  Venezia Giulia (Italy)  $43  $10.75  
Domiciano Cosecha Nocturna Malbec  2015  Mendoza (Argentina)  $45  $11.25
Villa Medoro Montepulciano d'Abruzzo  2015  Marche (Italy)  $45  $11.25   
Villa Gambaro Chianti Classico  2014  Italy  $46  $11.5  
Tenuta del Portale Aglianico  2012  Basilicata (Italy)  $46  $11.5
Earthworks Shiraz  2016  Barossa Valley  (South Australia)  $46  $11.5 
Grayson Cellars Lot 10 Cabernet Sauvignon  2016  California  $49  $12.25
Viña Bujanda Rioja Reserva  2011  Spain  $51  $12.75
Penley Phoenix Cabernet Sauvignon  2015  Coonawara (South Australia)  $51  $12.75
Angeline Pinot Noir  2016  (California)  $54  $13.5
Corte Lenguin Ripasso  2015  Veneto (Italy)  $55  $13.75
 l'Atelier Mâcon  2016  (France)  $61  $15.25
Piérola Rioja Reserva  2008  (Spain)  $63  $15.75  
Browne Cabernet Sauvignon  2015  Columbia Valley (Washington State)  $68  $17  
White / Rosé Wines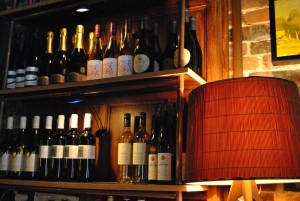 *
prices per bottle / 6oz glass
Reif Estate Vidal Riesling  2016  (Ontario)  $32  $8.00
Due Torri Pinot Grigio  2015  Venezia Giulia (Italy)  $42  $10.5  
Les Jamelles Viognier  2015  Pays d'Oc (France)  $45  $11.25
Xic Xarello Penedès  2016  (Spain)  $48  $12  
Malivoire Moira Rosé  2017  Beamsville Bench (Niagara)  $49  $12.25
  Nautilus Sauvignon Blanc  2016  Marborough (New Zealand)  $50  $12.5  
Mertes Goldberg Riesling  2016  Kansem/Zaar (Germany)  $50  $12.5  
Mandrarossa Grillo  2016  Sicily  $52  $13
Bogle Chardonnay  2016  California  $53  $13.25
Sparkling Wine:
Trevisana Prosecco n.v. (Italy)  $45  $9.75 (5oz) 
Casina Bric Nebbiolo Brut Rosé n.v.  (Italy)  $65  bottle only
Food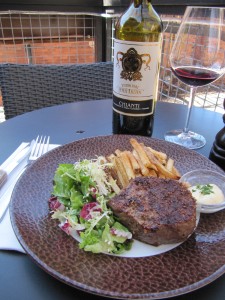 *
Basket of Bread  "Unrefined Olive" oil, 18-year-old balsamic vinegar The Unrefined Olive  $5
French Fries  dijonnaise  $8  
Marinated Olives  $9
Green Salad  $9
Spiced Nuts  seven spice blend  $9
Soup of the Day  cup  $8   bowl  $10 
Bacon-wrapped Dates  $14
Dave's Grilled Cheese Sandwich  aged cheddar, mushrooms, onion, thick-cut double-smoked bacon  $15   with salad & fries  $18
Kale Caesar Salad  green & purple kale, shaved parmesan, double-smoked lardons  $18
Cheese & Charcuterie  with bread & condiments  $ 6 per item
Naan Pizza  soppressata salami, onions, peppers, mushrooms, mozzarella, parmesan, tomato sauce  $18  (gluten-free available)
 Croque Monsieur  melted Jarlsberg, capicollo (or sub. Cremini mushrooms as vegetarian option), Dijon mustard, fries, salad  $18  with egg  $20 
Steak Sandwich  Canadian AAA Angus striploin, Jarlsberg cheese, sautéed mushrooms, red peppers & onions, toasted baguette, fries, salad  $25  
Steak-frites  Canadian AAA 5oz. Angus striploin with salad, fries  $27    or with brandy-sautéed mushrooms & onions  $32  
* 
Plus Specials & Desserts  which change regularly 
*  
Eggs Benedict  (week-end lunchtimes only)  $16
Liquor & Eaux-de-Vie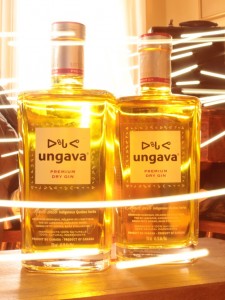 (prices per 1.5 oz)
Vodka
Stolichnaya  (Latvia)  $7
Žubrowka Bison Grass Vodka  (Poland)  $7.25
Chopin Potato Vodka  (Poland)  $8.75
Grey Goose Vodka  (France)  $8.75
Gin
Beefeater  (England)  $7
Tanqueray  (England)  $7.25
Ungava  (Québec)  $7.75
Hendrick's  (Scotland)  $8.75
Bitters
Campari  (Italy)  $7.25
Tequila
Espolón Tequila Reposado  (Mexico)  $9.75
Rum
Mount Gay Eclipse  (Barbados)  $7.5
Gosling's Black Seal  (Bermuda)  $7
Pitú Cachaça  (Brazil)  $7 
Havana Club Añejo  (Cuba)  $7.5
Whiskey
Wiser's Deluxe  (Ontario)  $7 
Bushmills Black Bush  (Ireland)  $8
Woodford Reserve Bourbon  (Kentucky)  $8.75
Knob Creek Bourbon  (Kentucky)  $8.75
Scotch Whisky
Glenmorangie 10 yr. (Highlands)  $10
Laphroaig 10 yr. (Islay)  $11.25
Dalwhinnie 15 yr. (Speyside)  $12
Lagavulin 16 yr. (Islay)  $13.75
Eaux-de Vie
Grappa Sarpa di Poli  (Cab/Merlot)  (Italy)  $8.75
Pisco El Gobernador  (Chile)  $8 
Stroh Williams-Birnen (Pear Williams) Schnaps  (Austria)  $9.5 
Gaja Grappa di Barolo  (Italy)  $15.50
Brandy
Calvados Boulard  (France)  $8.75
Chateau de Laubade V.S.O.P. Armagnac  (France)  $9.25 
Courvoisier V.S.O.P. Cognac  (France)  $11.75 
Liqueurs
Ramazzotti Sambuca  (Italy)  $7
Ramazzotti Black Sambuca ( Italy)  $7.25
Ricard Pastis  (France)  $7.25
Kahlua  (Mexico)  $7.5
Green Chartreuse  (France)  $10 
Cocktails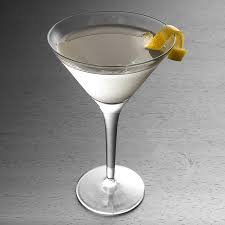 *
Sangria  3oz wine, .5oz gin, orange juice & soda  $7  (four glass jug: $25)
The "Audrey"  3oz prosecco, 1.5oz Martini Rosso and half an orange  $9.5
Negroni  1oz each of gin, Campari and Martini Rosso  $9
 Mimosa  5oz Prosecco, orange juice  $10
Kir Royale  5oz prosecco, .5oz cassis  $11
Raspberry Royale  5oz prosecco, 1oz. framboise  $12 
Pink Lemon Spritzer  1.5oz white wine, 1.5oz vodka, Fentiman's pink lemonade, Angostura bitters  $10
Caipirinha  2oz cachaça (Brazilian sugar cane liquor), lime, sugar  $11
Dark 'n Stormy  1.5oz Gosling's Dark Bermuda Rum, Fentiman's Ginger Beer  $8
Pisco Sour  1.5oz pisco, lemon, sugar, egg white, Angostura bitters  $9
Old Fashioned  1.5oz Woodford Reserve Bourbon, Angostura, sugar, orange twist  $10
Apéritifs & Dessert Wines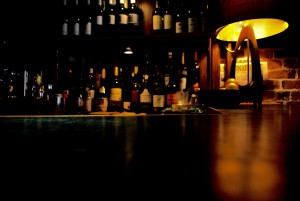 **
per 3 oz glass 
Dubonnet  (France)  orange/coffee flavoured wine-based aperitif  $6
Southbrook Framboise  (Niagara)  raspberry wine, perfectly balanced tannins & sweetness  $8.5  
Famille Perrin Muscat Beaumes de Venise  2014  (Rhône)  fortified sweet white dessert wine  $8.25 
Osborne 10RF Medium Sherry  (Spain)  $7.5
Graham's 2011 LBV Port  (Portugal)  complex and earthy  $7.5
Taylor Fladgate 20 Year Old Tawney Port  (Portugal)  in wood for twenty years  $14.5
Beer & Cider
ABC India Pale Ale  (Ashton, Ontario)  5%  444ml draught  $6.64  
 Žywiec  (Poland)  5.5%  500ml bottle  $7.08  
Guinness "Draught"  (Ireland)  4.2%  500ml can  $7.96
Duvel Blonde  (Belgium)  8.5%  330ml bottle  $8.41 
Waupoos Premium Cider  (Prince Edward County, Ontario)  6.5%  341ml bottle  $8.85 
plus occasional guest beers
*